Racking Inspections
Racking Safety Inspections should always be carried out by a Competent Inspector!!
Racking safety is very important in any warehouse. Collapses can happen at any time if the warning signs are missed.
We provide processes and procedures to assist in the reporting and in-house visual inspections, as well as performing inspections at scheduled periods.
Weekly by an in-house trained Inspector
Independent Expert Racking Inspections, depending on the warehouse operations
Racking Inspection Time Intervals
What is included in a Racking Inspection Report?
Storage Equipment Condition
Suitability of the Storage Equipment
Warehouse Storage Equipment Damage Report
Corrective Actions Recommendations
We can provide processes and procedures to assist in the reporting and visual in house inspections, as well as providing an expert inspector to visual inspect your warehouse racking installation at scheduled inspection periods.
Who should carry out Warehouse Racking Inspections?
According to HSE publication "Warehousing and Storage – A guide to health and safety" (HSG76);

A technically competent person should carry out inspections at intervals of not more than 12 months. A written report should be submitted to the PRRS with observations and proposals for any action necessary
A technically competent person might be a trained specialist within an organization, a specialist from the rack supplier, or an independent qualified rack inspector.
Once the inspection has been done, the next process would be to repair the damaged racking and get it back to a fit for purpose condition, and ensuring that operations can safely be carried out.
Every Warehouse is subject to Racking Repairs!

In any warehouse damage to pallet racking has become somewhat inevitable. Pallet racking is a very interactive product that gets damaged during the day to day operations. When damages occur, it is natural to ask who did it and what happened. From a business and operational perspective, we all know that it's most important to retain the integrity of the structure before it escalates and hampers safety and or productivity.

Racking damage can occur for many reasons such as poor housekeeping, operator error and lack of maintenance. Sometimes the damage may not look as serious as it is.
Fortunately, racking is designed with safety factors allowing for minor bumps and scratches, but what happens when we have damage that is more on the major side. How do we even determine which is which?
RSS Solutions has a skilled team to handle these situations. We can come out and do a warehouse inspection on a bay by the bay basis of your racking, and supply a detailed report. We then provide you with a solution to how we can fix your system if anything needs to be repaired or replaced. At the same time, we can identify potentially high-risk areas or operations. We can also offer you some protection for your racking to help to protect your investment.
We will work with you to ensure minimum disruption to your warehouse operations. We are open to questions and solutions you may have and strive to keep an open relationship with you always.
We have Experts who can perform Racking Safety Inspections.

We can offer onsite Training to prevent more Racking Repairs.

When the process is complete we can offer onsite training of good practice on how to use the racking system, Correct loading practices, and Safety walk through to check for any potential high-risk areas.
Loose Floor Anchor.
Rotated Base Foot.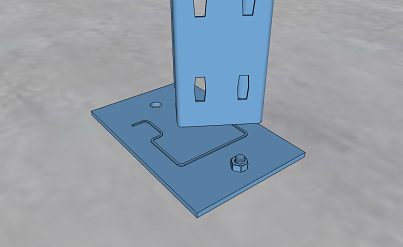 Sheared Base Plate.
Dislodged Beam.
Damaged Diagonal Brace.
Damaged Horizontal Brace.
Broken or Sheared Brace
Dented Upright
Upright Bent in L-Direction
Upright Bent in D-Direction
Excessive Bending on Beam
---
Your shopping cart is empty!
I need an Inspection on my Racking!